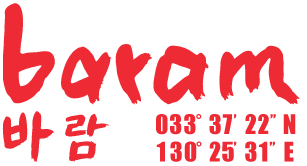 KOREA-JAPAN Co-Production Program「baram 033°37'22"N 130°25'31"E」was heldat Fukuoka as a "JCDN international Dance in Residence Exchange Project vol.2"on 23rd and 24th March 2013.Thank you for coming a lot of people.Here, we have posted an archive of the project summary, and performances contents.


Resident Artist / Direction , Conception , Choreography , Text
Jung Youngdoo
Actor / Miwa Tetsuzo
Dancer /Itoh Daisuke , Ogata Yuka , Kong Youngsun , Suenaga Claire, Cho Hyeoungjun , Lee Sunjin , Matsui Eri

Music / Park Jerok
Art / Tanaka Chisato 
Space Design / Tsuda Mitsuo
Film / Izumiyama Rodo
Text / Shimada Eri , Tsutui Aya
Translation / Moon Jiyoung (Korean) , Caitlin Coker (English)
Flyer& Web Design , Record / RECOMEMO WORKSHOP & STUDIO.(Izumiyama Rodo、Nitabaru Riki)
Technical
Lighting / Uchida Masanobu(ACT ONE)
Sound / Harano Takayuki(ACT ONE)
Stage maneger / Yokoyama Takeshi
Staff / Deguchi Yutaka , Oshima Eisuke , Ueno Azumi , Awane Kei , Machida Yuka
Program Director: Sato Norikazu(JCDN)
Production Coordinators: Yokoyama Kyoko(FFAC)/ Suzuki Shima(FFAC)/ Kousaki Saori(JCDN)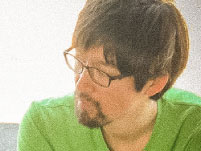 Resident Artist
Jung Youngdoo
As Human beings, anyone belongs in various categories such as nation, nationality, family and the environment in which they were born, and at the same time is one individual who does not belong to any of those categories. The more history and affairs that encircle oneself, the more one is worried about his or her identity.  However, even if the person has led an ordinary life, everyone is troubled about their identity his or her whole life.  Then, they wish that people will look at them without any prejudices.  I thought that I wanted to create a piece based on what I felt as I went back and forth between Fukuoka and Busan.  I am an individual.  However, when I come to Japan there are times when I become a Korean despite that I am an individual.  I think that the moment when all people can encounter one another on an even footing is perhaps when they meet as individuals, separated from their sex, age, nationality, and place of origin.  Of course, I know that this sort of encounter is extremely difficult.
Often, we see one individual and rather than try to see that one person in him/herself, we try to get an impression of him or her through factors like their birthplace, nationality, or the environment in which they were raised.  Why does this happen?  Can't we get over that wall and feel like we can encounter a human being just as a human being?  This question is the biggest concern I carry now, and also my challenge.  In a way, it is probably quite a natural and idealistic question, but I believe that only idealism can change reality.
In this project I want to express the loneliness and contradictions in society by borrowing the linguistic power of theatre, and represent the possibility of empathy felt through the human body through dance.  Also, I would like to explore this way of thinking through various mediums such as text, film, and visual arts.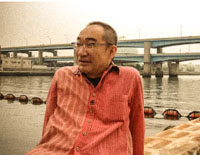 Program Director/
Sato Norikazu(NPO JCDN)
In April 2012 Young Doo visited Fukuoka.  Just on that day, it was the commemoration of the opening of "Hakata to Pusan," the only oceanic route on the Asian Highway, a modern Silk Road connecting Tokyo`s Nihonbashi to a town in Turkey called Kapıkule.  Without ever losing interest, we were dazedly watching the ships going out into the ocean from the port of Hakata, the ships coming in from the ocean, and the people and things being carried in.
Since ancient times, various cultures from China have passed through South Korea and spread through Japan with Fukuoka as the entrance. As of now, airplanes have come into the world and can arrive in Seoul from Hakata in just one hour, and the Internet runs throughout the world.
Maybe, something very important has become overlooked.  I thought that I want to search for a "Path= Asian Road" heading for the future between Japan and South Korea, something which cannot be seen through politics or economics, but only through the viewpoint of an artist. 


This project started as the second round of JCDN's International Dance in Residence Exchange Project. The artist who came down to Fukuoka was Jung Youngdoo, who is active in Korea as a director and choreographer. It seems that at the beginning he was being conscious of "the unconscious of human beings" as seen through the historical relationship between South Korea and Japan. That is an extremely large theme due to its philosophical nature, including ideology, language, and nationality. As expected, it was to the extent that I felt unease about drawing near to the worldview expressing this director's vague impression..

Text / Tsutui Aya
read the rest>

In a space that has been forgotten by people and continues to live on in the memory of someone, this performance silently, yet with a fever-heat, held that moment.
The stage was Kyushu University's Hakozaki Campus. The Korea- Japan Collaboration Program "baram" opened its Dance/Theatre/Film piece to the public on an evening in which the cherry blossoms approached full bloom earlier than in usual years.
Kyushu University's Museum (previously the intelligent machine lab-factory), nicknamed the machinery room, first took in the audience, which was full for both of the performance's two days. Purchased at the time of Kyushu University's establishment, it is a storehouse for old machinery used by students for experiments and research until the engineering department's transfer to the Ito campus from 2005. Film arising in the dim storehouse and letters projected on the floor stated the beginning of the program..


Text / Shimada Eri
read the rest>

Post-performance Interview


[Ogata Yuka] It was interesting, or rather, a challenge of how I would make use of my competitive spirit and engage in the performance.


[Suenaga Claire] I feel like, "hmm, what shall I do tomorrow?" The three weeks were very fun, and it's a bit sad that today is the end.


[Itoh Daisuke] This is true for the performance as well, but more than anything I felt that I was really allowed to grow during the rehearsal period.


[Matsui Eri] I was told by the people watching, " your dance has changed, huh," and so I was really glad about that.

[Miwa Tetsuzo] In that meaning of it I have had the privilege of having an incredibly good experience.

[Lee Sunjin] I was a dancer who knew the method of expressing the emotions inside of me.

[Cho Hyeoungjun] Since this is my first time to come here to Japan, I am really happy to have made Japanese friends.

[Kong Youngsun] I spent with everyone has arrived somewhere in the same way that an airplane made a landing.

[Park Jerok] I hope that from now the piece will develop more, and that we can develop our relationships with each other by connecting more.

[Jung Youngdoo] I feel a joy as if I, myself, have gained one more reason for continuing art. Thank you.

read the rest>